Voici quelques informations sur les différents disques (cds audios et dvds vidéos) de
Bob l'Éponge
. Concernant les DVDs, je ne détaillerai que les coffrets des saisons complètes.
A ce jour, seules les 4 premières saisons sont disponibles en zone 2 (donc lisibles sur les lecteurs DVD achetés en France). La saison 5 est disponible en zone 1 dans 2 coffrets sur
Amazon.com
, tout comme le premier coffret de la saison 6.
Les cds audios sont plutôt rares surtout en France. J'ai cependant réussi à m'en procurer pour les présenter sur le site.
infos du 06/06/2012
Spongebob Squarepants - The Yellow Album :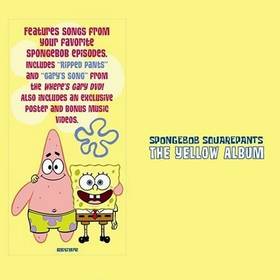 Ce CD audio contient toutes les chansons et musiques de la série Bob l'Eponge jusqu'à la saison 3 inclue. Il n'est pas commercialisé en France, mais vous pouvez le commander sur

Amazon.com

pour seulement 13 dollars.


SORTIE AMÉRICAINE : 15/11/2005

SORTIE FRANÇAISE : Aucune date annoncée

DURÉE : 33 minutes
CONTENU :
- 01_Spongebob Squarepants theme song *
- 02_Sweet victory *
- 03_Ripped pants *
- 04_Doing the sponge *
- 05_He's flying *
- 06_Gary's song
- 07_Sweater song *
- 08_Hey all you people *
- 09_Bubble beat box
- 10_Underwater sun *
- 11_Bossy boots song
- 12_When worlds collide *
- 13_Jellyfish jam
- 14_Campfire song song *
- 15_Hey mean Mr. Bossman
- 16_Stadium rave
- 17_All you need is friends *
- 18_Nicks B. Danube
- 19_That's what friends do *
- 20_You're old
- 21_Electric zoo
- 22_Jingle bells
- 23_B.C. strut
Commentaires : Un très bon album dont les chansons rappellent forcément de bons souvenirs tant certains passages sont géniaux, comme quand Bob l'Eponge déchire son pantalon, quand Bob ramène les méduses dans leur prairie ou bien la musique des "robots" Electric zoo...

Vous pouvez vous faire une idée de la qualité du CD en allant écouter les extraits des morceaux sur cette page.